California Aqueduct - Canal Liner & Embankment Repair
Completion year: 2018
Client: Department of Water Resources
Scope: Remove failed section of canal liner including 24,000 CYD of soil and 4,000 CYD of petroleum contaminated soils. Lower canal water elevation from 30 feet deep top 15 feet deep for 5 miles. Dewater canal locally for the remaining 15 feet using rock cofferdams. Replace fill material and drainage layer behind liner. Replace concrete liner using steel screed. Most of this work was performed 24 hours per day with 2, 12 hour shifts.
Altaville Fire Station Auto Shop
Completion Year: 2018
Client: State of California Department of General Services
Scope: This Project consisted of grading and placing aggregate base throughout the site to receive new concrete paving. Excavated 1,000 CYD of rock and installed a Sliderail shore system in preparation for a new 55'x25'x19' structural concrete test pit. Imported and placed approximately 4,500 CYD of engineered fill for the sub-base on the new Automotive Repair Shop. Installed new Utilities consisting of Storm Drain, Sanitary Sewer, and Domestic and Fire Water.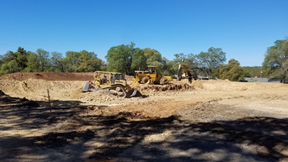 Lower Drum Canal Water Conveyance Project
Completion Year: 2012, 2013, 2015, 2016, 2017
Client: Pacific Gas & Electric
Scope: Demolition and removal of existing canal liner during 4 week outage on concrete canal capable of conveying water at 480 cubic feet per second. Replace liner with new with steel reinforced shotcrete liner. Average repair includes 2,000 linear feet of canal all occurring in late fall.
McManis Winery Process Water Management System Improvements
Completion Year: 2017
Client: McManis Family Vineyards
Scope: This project consisted of the excavation and removal of 51,000 CYD of soil in preparation for the installation of two process water holding ponds. The ponds were lined with approximately 160,000 SF of 12 oz. geotextile fabric and 160,000 SF of 60 Mil smooth HDPE liner. We Installed 600' of 21" drain line at 30' in depth to a new effluent concrete structure.
Pit 5 Power House Switchyard Slope Repair
Completion Year: 2016
Client: Pacific Gas & Electric
Scope: Stabilize landslide by removing 40,000 cubic yards of excess loose material from 1.25:1
slope, installation of Bin Wall, placement of 30,000 tons of ¼ Ton Rip Rap, installation of Turf
Reinforcement Mat and construction of sub-drains and perimeter ditches.
Balch and Helms HQ Paving Project
Completion Year: 2016
Client: Pacific Gas and Electric
Scope: Placed 70,000 square feet of Petromat and 800 tons of ¾" Class II Base Rock. Paved Lower Housing Loop, Powerhouse Access Road and Helipad Area using approximately 2,700 tons of ½" asphalt. 70,000 square feet of roadway sealcoat within the Upper Housing Loop. Paved Support Facility, Powerhouse Access Road and Support Housing Loop using approximately 3,450 tons of ¾" asphalt. Work also consisted of removing asphalt and regrading areas to provide better drainage.
Robbs Peak & Camino Weirs
Completion Year: 2016
Client: Sacramento Municipal Utility District
Scope: Construct cast in place concrete weirs below Robbs Peak Diversion and below Camino Dam. Water from canal was siphoned into the Rubicon River to provide fish flows during construction of the weir below Robbs Peak Diversion. Access to the weir below Camino Dam was by foot and helicopter only.